After Trevor Lawrence and Zach Wilson are off the board, the draft gets interesting. Who will the 49ers take at #3? Jones, Lance, or Fields? What about the Falcons? Kyle Pitts?
With the NFL draft less than two weeks away, there is still a lot of uncertainty on who is going to be picked following the first two selections. Obviously, the 49ers are going to take a QB, considering they do not think Jimmy Garoppolo is the future of the team and they gave up a lot of draft capital to move up to the 3rd overall selection. Assuming the reports are true about the next two drafts having some of the worst QB prospects in recent memory, it was smart for the 49ers to move up to select a QB. However, are they seriously going to take Mac Jones? Or are they playing the media and have been thinking of taking Justin Fields the whole time? Could Trey Lance be in the mix? What about the Falcons, who haven't been good in a couple of years. Do they opt to get a QB to eventually replace Matt Ryan? Or do they think they can compete this year and opt to select a game-changing offensive weapon like Kyle Pitts? They could also go with Penei Sewell to bolster their offensive line. 
What about the Dolphins? As they put their trust in Tua Tagovailoa to lead this team's future, do they get him a much-needed playmaker like Ja'Marr Chase, Kyle Pitts, or Devonta Smith? Or do they get him more help on the offensive line by selecting Penei Sewell? Does Joe Burrow get his guy in Chase when the Bengals select 5th overall? Do the Patriots or Cowboys trade up to select offensive playmakers? I predict every single selection in the first round and what I expect each team to do. Here we go.
Jacksonville Jaguars: Trevor Lawrence, 6-6 215 pounds, QB, Jr. Clemson
It doesn't take a genius to figure out what the Jaguars are going to do here. All 32 teams would select Lawrence with the #1 pick. The Jaguars won the lottery and are going to select Lawrence, who is the best NFL QB prospect since Andrew Luck. He has the size, durability, big arm, and good decision-making that is needed to become an elite NFL QB. Lawrence also excels at avoiding pressure by using his quickness and athleticism to scramble out of the pocket and still complete big-time passes and also run for yardage when needed. Lawrence is as sure of a thing as any prospect in history. I expect numerous Pro-Bowls for Lawrence, but Jacksonville will have to continue to rapidly rebuild the rest of their roster so they can contend sometime soon.
New York Jets: Zach Wilson, 6-2 200 pounds, QB, Jr. BYU
You read that right. Wilson is only 6-2, not 6-3. In fact, I think he is closer to 6-1 than 6-3 and there is no way he weighs more than 200 pounds like he claims he does. Either way, the Jets made a huge mistake giving up on Sam Darnold this early in his career to bet on a guy who dominated in a weak conference and has already suffered two major injuries in his college career. I simply do not think Wilson is built for a 17 game season because of his weak frame and injury-ridden past. I will give him this. He is a fantastic athlete who is very fast and has an obvious talent to avoid pressure and make big-time plays that many QB's cannot make. I just don't think a QB is going to change this fragment of an organization. They should have kept Darnold and got him help, especially on the offensive line since they picked up a couple of playmakers this offseason. I think Sewell would have been the move right here or even a high-end receiver or tight-end like Smith, Chase, or Pitts. Sorry in advance to Jets fans, but I just don't see this move panning out for the Jets as they still have a slew of issues to address other than the Quarterback position.
San Francisco 49ers(Via Miami Dolphins): Justin Fields, 6-3 225 pounds, QB, Jr. Ohio State
This is the most interesting selection in the draft. No one really knows what the 49ers are going to do here, even if media members continue to tell you that they have already made their decision to select Mac Jones. I don't buy it, and if you want to look further into my reasoning check out my last article regarding why the 49ers have to take Fields over Jones for their future and will do so. Yes, there is a possibility Jones may be more NFL-ready than Justin Fields, but why is Fields falling in most mock drafts when he is undisputedly the second-best QB in this draft? Again, this is very similar to what happened with Justin Herbert, Josh Allen, and even Patrick Mahomes. There were question marks about consistency and work ethic, overlooking the natural talent that these QB's have. Fields falls into this category and the 49ers being the great organization that they are, seem too smart to make a mistake like taking Jones here. Maybe I am wrong, but I think this is a tactic to fool other teams like the Jets to not change their mind and select Fields, leaving the 49ers with the ability to shock everyone and take Fields at #3.
Atlanta Falcons: Penei Sewell, 6-6 330 pounds, OL, Jr. Oregon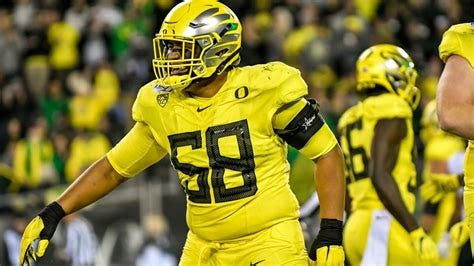 Sewell is one of the most talented offensive lineman prospects in recent memory. He fits the build and his blocking skills are truly elite. Sure, Rashawn Slater is amazing and is being disrespected right now in many mocks(as I think he is almost as good as Sewell), but Sewell is the guy here. What Tom Brady is doing at 43 years old is incredible, which leads me to believe that Matt Ryan has some really good years left. I know Ryan isn't Brady, and his QBR is down each year, but I just think better protection on the offensive line for him would propel this team to at least 7 wins. Everyone claims the Falcons need either Trey Lance or Kyle Pitts, but I think they are perfectly fine with playmakers. Their O-line is okay, but adding Sewell may provide Ryan with the protection he needs as he ages and continues to get slower.
Cincinnati Bengals: Ja'Marr Chase, 6-0 205 pounds, WR, Jr. LSU
Although I think Pitts or Slater is the move here, Burrow will want his guy in Chase. Since Burrow is the franchise player, and even though he needs a ton of help on the offensive line to protect himself from further injuries, the Browns will accommodate his request then draft a lineman in the second or third round. Simple as that. An offensive lineman like Slater would be smart here assuming Atlanta takes Sewell, but Burrow has the final say and that's why his guy Chase goes at #5 to the Bengals.
Miami Dolphins(Via Philadelphia Eagles): Kyle Pitts, 6-6 240 pounds, WR/TE, Jr. Florida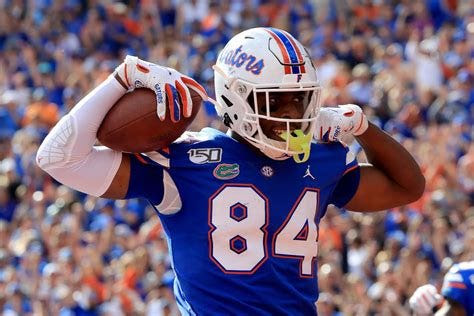 With Sewell off of the board, I think the Dolphins get Tua a big-time playmaker and one of the best offensive prospects in recent memory in Kyle Pitts. He has that George Kittle type effect on the game and can be slotted in as both a wide receiver and a tight end. His hands are incredible, his speed is unbelievable for his size, and his route running and blocking are fantastic as well. Other than Lawrence, I would argue that Pitts is the second-best prospect in the draft and that the Dolphins are lucky to have him land at #6 to them. Tua definitely needs a ton of help offensively, and that can be addressed with a ton of prospects, but Pitts is the move here, assuming he is available. If he goes to Atlanta, then Devonta Smith is the move here, but I think Atlanta goes with Sewell.
Detroit Lions: Devonta Smith, 6-1 175 pounds, WR, Jr. Alabama
The Lions obviously have a ton of weaknesses that they need to address, but I honestly like the direction this team is going in for the first time in a while. I think drafting Jeff Okudah at #3 overall last year was a good move at the time since they desperately needed a corner, and I think trading Stafford for Jared Goff and picks was the right move as well, even though I think Goff's upside is severely limited. Getting the Heisman trophy winner Smith would immediately bolster this team's offense, which desperately needs a playmaker. The Lions have been in talks with other teams to trade back in the draft, but I think they stay put and select Smith, which will automatically give them an A++ grade in the first round.
Carolina Panthers: Jaylen Waddle, 5-10 170 pounds, WR, Jr. Alabama
There is an argument going on in the media who is better, Waddle or Smith. To me, it's not even close and the Heisman winner Smith is way better. However, both of these guys have the ability to be #1 receivers in this league and Waddle would have been the best receiver in the country if it wasn't for such a stacked Wide-Receiver draft that included both Chase and Smith(Pitts too if you count him as a flex receiver). With Sam Darnold and Christian McCaffrey leading the offense right now, Waddle would bring a playmaker to this offense which would take some pressure off of both Darnold and McCaffrey. Darnold and Carolina need another playmaker and Waddle will be the best available at this position in the draft.
Denver Broncos: Trey Lance, 6-4 226 pounds, QB, Jr. North Dakota State
Drew Lock just is not the guy for the future. The Broncos would love Justin Fields to end up here, and he might if San Francisco drafts Mac Jones with the 3rd pick, but since I have the 49ers drafting Fields, the Broncos then revert to plan B and take the QB with the highest upside available and that is Trey Lance. Cupcake schedule? Awful competition? Look at how Carson Wentz is doing, won't Trey Lance fold like Wentz did? These question marks surround Lance who as many say is the biggest enigma of the draft. He could be a Pro-Bowler with his tools, but he could also end up being a bust. With the Broncos not going anywhere anytime soon, no offense to Broncos fans, they should take Lance since he could be their future and if they bet on him, they may just hit the lottery if he pans out in the future. He won't be able to start right away and it seems like Drew Lock and others on the depth chart will have to play all of next year while Lance learns the playbook and develops at the NFL level. Drafting Mac Jones here, who is NFL ready, is probably the safe move, but when has safe ever done anything good for an organization trying to get out of purgatory? Exactly, and that is why Lance fits the future of this franchise that has had a tough time drafting Quarterbacks in recent years.
Dallas Cowboys: Patrick Surtain II, 6-2 200 pounds, CB, Jr. Alabama
The Cowboys do need a lot of help, but none more than at the Cornerback position. Surtain is easily one of the best corners in this draft, and if the Cowboys are the favorites to win the NFC East division(which many people say they are), they need to fill the biggest hole they have for right now immediately, not pick a player that fits the future. CeeDee Lamb had a pretty good rookie year so I don't judge the Cowboys too much for passing on Justin Jefferson, Jerry Jeudy, and Brandon Ayiuk, who all look better than Lamb at the moment. However, that could change. Either way, this is a perfect fit and I know it seems crazy that I have no trades in the top 10, but I think that if this draft goes as I think it will, trades won't happen until the Patriots move up for a QB in the early teen selections because Miami and San Francisco have already made the big moves prior to the draft.
New England Patriots(Via New York Giants): Mac Jones, 6-2 220 pounds, QB, Jr. Alabama.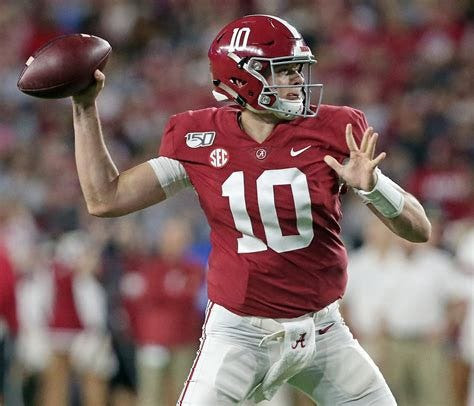 The Patriots give up their #15 pick in the first round and their third-rounder in this draft for the #11 selection because of the fear that teams 11-14 may select Mac Jones, who would actually fit in very well in Bill Belichick's offense. Jones isn't quick, but similar to old Pats QB Tom Brady, he has pinpoint accuracy and elite decision-making. He does not have a big upside like Fields or even Lance, but he does seem NFL ready and you can count on him to put the ball where he wants to put it. This is important, especially since Cam Newton struggled with accuracy last season. Slot in Jones and that problem is fixed and worst comes to worst, Belichick can also swap Newton and Jones throughout the game depending on opposing defenses. If the 49ers end up going with Jones at #3, the Pats still trade up and select Justin Fields here(assuming Denver would still select Lance over Fields).
Philadelphia Eagles: Micah Parsons, 6-3 244 pounds, LB, Jr. Penn State
The Eagles seem content with keeping Jalen Hurts as their QB for the distant future so the trade with the Dolphins was quite a good one since they don't need a QB and don't seem to be too interested in Kyle Pitts or Penei Sewell. They obviously need a lot of help, but I believe since the great receivers are gone, they take the best player available at this point, which is either Rashawn Slater or Micah Parsons. They could go Slater, but I think they take Parsons to bolster their linebacker core. I know they probably expected Waddle or Smith to be available here since they want to draft a playmaker to pair with Jalen Reagor from last year's draft, but they missed out so they draft whoever they think is the most talented player at this selection.
L.A. Chargers: Rashawn Slater, 6-3 305 pounds, OL, Jr. Northwestern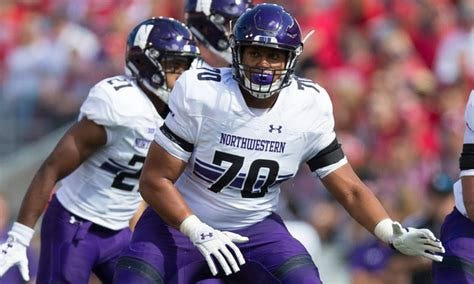 Slater is a steal for the Chargers at this position in the draft. Many people have viewed Slater as almost or just as good as Sewell, so getting him at #13 is amazing for the Chargers, assuming another team does not jump on the opportunity earlier in the draft. Justin Herbert and the Chargers need another offensive tackle and getting Slater fills that hole and continues to reinforce the Chargers' efforts to protect their young star QB. The Chargers will be a much better team this year and Slater will be a huge difference-maker.
Minnesota Vikings: Kwity Paye, 6-4 272 pounds, Edge, Sr. Michigan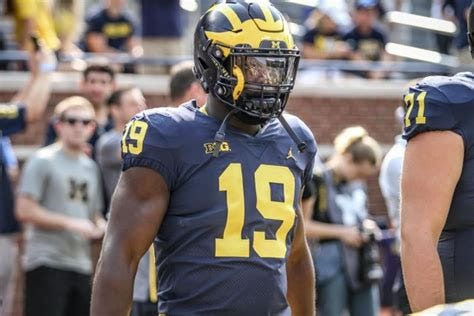 Easily the best pass rusher in the draft, Paye will be one of the guys the Vikings will look to select at #14 assuming they don't trade down in the draft. The Vikings need to add some depth defensively and Paye is one of the fastest guys for his size in this draft. You can slot him in at multiple positions and he has a knack for adapting to any defensive play a coordinator wants to run. O-line may be an option here, but I think Paye is too good to fall past #14 overall.
New York Giants: Alijah Vera-Tucker, 6-4 315 pounds, OL, Jr. USC.
Daniel Jones and Saquon Barkley need protection and a lot of it. If any of you watched the first two Giants games last year with Barkley at RB then you saw how atrocious the Giants' offensive line is. I am sure the Giants wanted Slater here, but Vera-Tucker is a proven, experienced, and gifted lineman who will help fill the O-line needs right away. He is a sure thing to be very good in the NFL and I am very surprised to see him barely in the first round in a lot of mock drafts. Don't overthink this.
Arizona Cardinals: Christian Darrisaw, 6-5 314 pounds, OL, Jr. Virginia Tech
With Vera-Tucker, Slater, and Sewell off of the board, I see the Cardinals still getting help on the offensive line for Kyler Murray and Co. Sure, they have a decent offensive line and can upgrade at a lot of positions with this pick, but I just think that getting Kyler Murray help as soon as possible would bolster their offense, even more, all while protecting Murray's health too.
Las Vegas Raiders: Jaycee Horn, 6-1 205 pounds, CB, Jr. South Carolina
Caleb Farley should be the corner they take here right? It makes logical sense considering he is better than Horn(in my opinion) and is seen as an overall better prospect in many scouts' minds right? Guess again! The Raiders are selecting so we know a bad first-round pick under Jon Gruden is inevitable. Horn will be a fine NFL corner, but he is not Caleb Farley or Patrick Surtain regardless of what anyone tells you. He also has NFL bloodlines, which legitimately could be the #1 reason Gruden and the Raiders select him. Shouldn't the #1 reason you draft a guy be because of his talent or potential? Yea, that's what I thought.
Miami Dolphins: Najee Harris, 6-2 230 pounds, RB, Jr. Alabama
A lot of mock drafts and talent evaluators, in general, are overlooking Harris and it is getting to the point that it is disrespectful. The dude put on one of the best running back campaigns in recent memory and it gets overlooked because Devonta Smith, Jaylen Waddle, and Mac Jones were a part of the same offense. Harris has the ability to step into the NFL right now and be a top 10-12 RB. He is that good, and almost no team needs stability at the RB position more so than the Dolphins. Since they picked Pitts early on in the draft, and with Vera-Tucker, Darrisaw, Slater, and Sewell being off of the board here, they may punt their offensive line selection to the second or third round to select a dominant RB that could become one of the best RB's in the league almost immediately.
Washington Football Team: Jeremiah Owusu-Koramoah, 6-1 215 pounds, LB, Jr. Notre Dame
Although many people think that the Washington Football Team will take an offensive lineman here, I think they go with arguably the second-best linebacker in this draft, which happens to be Owusu-Koramoah. He would add talent and depth to an already good defense, and his talent may be too much to pass up here at #19.
Chicago Bears: Rashod Bateman, 6-2 210 pounds, WR, Jr. Minnesota
It is no secret that the Bears need a wideout and with Smith, Waddle, Chase, and Pitts being long gone here, they opt to get Bateman, who is arguably the fourth-best receiver prospect in this draft. They have been tied to him for a while now and I don't see the next 13 days changing any of that. I would lock this selection in.
Indianapolis Colts: Gregory Rousseau, 6-6 260 pounds, DE, Jr. Miami
They could go with an O-lineman or another Edge here but I think they will surprise people and take Rousseau over Zaven Collins and his own teammate Jaelan Phillips. I have no reason why Rousseau may land before Collins or Phillips to the Colts, I just have a feeling and sometimes you just gotta trust your gut.
Tennessee Titans: Kadarius Toney, 6-0 193 pounds, WR, Sr. Florida.
Everyone knows the Titans are a good team. Everyone also knows they will be a better team once they pick up another high-end receiver, considering A.J. Brown can't do all the work at the position. I think Toney is the perfect guy here and I have heard the Titans being linked to him for weeks. Tannehill needs more options to take even more pressure off of Derrick Henry so I think Toney is the move.
New York Jets(Via Seattle): Teven Jenkins, 6-6 320 pounds, OL, Sr. Oklahoma State
They are going to need to improve one of the worst offensive lines in the league and since they are drafting Wilson with the #2 overall pick and many good linemen have been selected in between the Jets picks, they go with the best lineman available which is Jenkins. He will come in and immediately bolster the O-line, although the Jets' work will not be finished here. They should look to draft another lineman in the second or third round of this draft considering Zach Wilson has an injury history and he will need all of the protection he is gonna get.
Pittsburgh Steelers: Jaelan Phillips, 6-6 266 pounds, Edge, Jr. Miami
Phillips is too talented and good to pass on at this point in the draft. Simple as that. Do the Steelers have other holes that they may need to fill? Yes, but they can fill those needs in the rest of the draft since Edge is one of the positions they need to upgrade on and the Steelers would be ecstatic to get Phillips at #24.
Jacksonville Jaguars(Via LAR): Trevon Moehrig, 6-2 208 pounds, S, Jr. TCU
The Jaguars need to upgrade at the safety position and they do that here with arguably the best safety in this year's draft. This seems too good of a fit to not happen. I know Travis Etienne has been linked to the Jaguars but I honestly like Jax Robinson and do not understand why people want them to take Lawrence's Clemson teammate. They need to address defense and it starts with drafting the most complete playmaker at the position in Moehrig.
Cleveland Browns: Jamin Davis, 6-4 224 pounds, LB, Jr. Kentucky
The Browns will look to bolster their defense by upgrading at the linebacker position with Davis. I can also see them considering Zaven Collins, but I have been hearing Davis' name linked to the Browns for a while now. They may also look for an Edge like Jayson Oweh or Azeez Ojulari, but I think they select Davis, who is easily one of the best linebackers in this draft.
Baltimore Ravens: Azeez Ojulari: 6-2 249 pounds, Edge, Jr. Georgia
The Ravens have made it clear they want another dominant Edge like Terell Suggs. I don't know if Ojulari is that, but he is very good and will be the best Edge available at #27 in the draft. I can see the Ravens picking up Zaven Collins here too, but I think they go with Ojulari simply because they want an Edge that badly.
New Orleans Saints: Caleb Farley, 6-2 197 pounds, CB, Jr. Virginia Tech
New Orleans needs help at the corner position and although it may be tempting to select a wide receiver, O-lineman, or Edge here, I think Farley would be an A+ selection. Farley is a better cornerback than Jaycee Horn in my opinion so getting him at 28th overall is a steal. Considering Farley fits the Saints' cornerback need, assuming Farley is available, this is a perfect fit for a team trying to continue to compete for a Super Bowl.
The Packers don't need a linebacker. They really don't need anyone since they are one of the best teams in the NFL. They may go with a receiver like Rondale Moore here to get Aaron Rodgers some more help, but I think they pick the most talented player available at #29 which happens to be Collins. The Packers will be shocked to see Collins still available here and will jump at selecting him to bolster the depth of their defense.
Buffalo Bills: Christian Barmore, 6-5 310 pounds, DT, Jr. Alabama
The Bills have a very solid team, but they do need some help on the defensive line, which was exposed in the AFC championship game. Slot in Barmore, who is a beast at pressuring the Quarterback and someone who is surprisingly very quick at 310 pounds.
Kansas City Cheifs: Jayson Oweh, 6-5 257 pounds, Edge, Jr. Penn State
The Cheifs will have arguably the best roster in the NFL again next season so they do not have a lot that they have to upgrade. They definitely aren't taking an offensive player right here as the Cheifs need to add some depth defensively. Might as well take Oweh, who may be the most talented player still available to draft at #31, and someone who can add that depth to a defense that needs it.
Tampa Bay Buccaneers: Samuel Cosmi, 6-6 300 pounds, OL, Jr. Texas
Protect Tom Brady and bolster the O-line even more so to try and win another Super Bowl next season. Simple as that. The Bucs will take whatever O-lineman they feel like is the most talented at this point in the draft, which should be Cosmi.